In today's stress-filled world, spas offer us a much-needed refuge for the rejuvenation of our mind and body. Health spa treatments ranging from steam baths to hot tubs and ex-foliating facials have often been linked with potential medical benefits like reducing chronic pain, easing depression and improving immunity.
With just a little creativity and imagination, you can easily experience the therapeutic effects of a spa in the privacy of your own home.
Health spa and warm bath spaces
If you are looking for heated treatment rooms to help relax your mind and body, you can select from a range of options commercially available for home-use purpose. Some popular warm bath spaces include the caldarium, tepidarium and the laconium. These different forms of steam rooms have been used since ancient times for therapeutic as well as ritualistic purposes.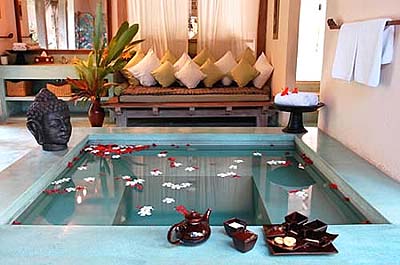 The caldarium, also known as a Roman Hot Bath, has heated surfaces supplied by electric heating units. The intensive warmth in the caldarium penetrates into our body to provide a deep relaxing effect.
The laconium, on the other hand, is a dry sweating room that causes our body to heat up slowly and gently. As compared to a caldarium room, the laconium has a pleasant temperature that provides a more relaxing and less intense experience. A tepidarium is a dry, warm seating area where you can relax pre and post spa treatments.
At Leisurequip UK, we supply and install a range of heated treatment rooms designed for home use. All our luxury spas and steam rooms can be customised to suit your personal preferences.
Salt therapy
Salt therapy or halotherapy is well-known for its potential health benefits, like reducing anxiety, regulating sleep patterns and curing certain respiratory ailments. Now, you can also enjoy the many beneficial effects of this natural remedy in the comfort of your own home by creating salt therapy rooms for private use.
You can select from our range of salt therapy steam rooms at Leisurequip and create a Luxury Health Spa experience for you and your family. In addition to this, you can also opt for salt vaporisers and purifiers and artificially reproduce the micro-climate of salt therapy centres.
Home foot spas
A luxury foot spa is a great way to unwind and give your feet the attention they really deserve. However, to do so, you do not have to travel all the way to a health spa just to get top-of-the-line primping for your feet. You too can create a luxury foot spa experience in the comfort of your home.
At Leisurequip UK, we supply therapy rooms to recreate the ultimate pampering experience of a luxury foot spa in your own home. Our professionally installed spa baths provide both cold and hot options for the feet, as part of a total reflexology treatment.
Being the approved dealer-installer for Tylo, Sweden's renowned sauna producer, we also offer a range of other spa products for home pampering and customise these features to suit any design and space.
More posts