Bespoke Caldarium
Cleanse and rejuvenate yourself the ancient Roman way in a custom built Caldarium hot room designed and installed by experts
Often used in combination with other thermal rooms such as a Laconium, a bespoke Caldarium is usually the hottest room in a Hammam spa. Leisurequip has extensive experience designing and building custom Caldarium spas for both home and commercial environments. This includes wellness retreats, spas and luxury hotels.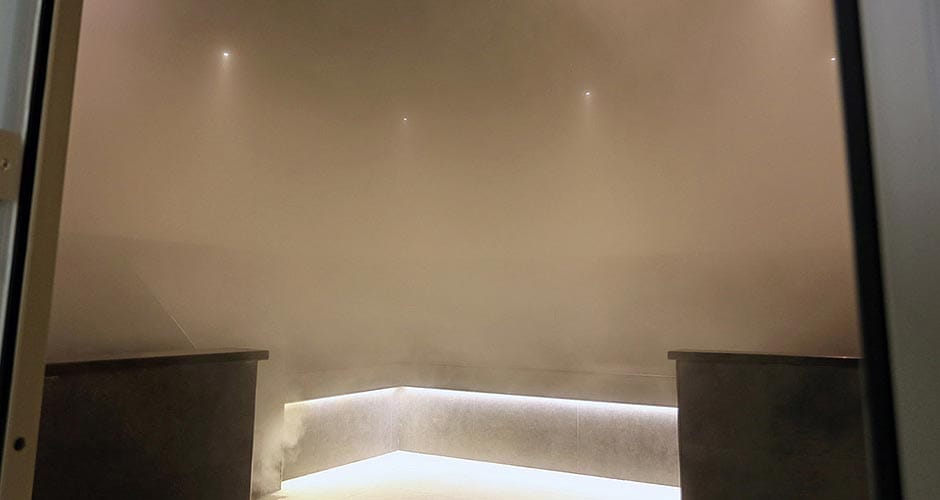 custom built caldarium hot room
In times gone by the Caldarium was heated by hot air via a slave driven under floor heating system called a hypocaust. A Leisurequip designed Caldarium hot room uses a combination of under floor and tile heating and will be thermostatically controlled. This allows for much greater control of the thermal room and surface temperature.
Why choose us to design and build your bespoke Caldarium?
With over 40 years of wellness industry expertise Leisurequip have all the skills and experience to create a stunning and individual custom Caldarium for any size home or commercial spa. We can take your idea and turn it into a completed hot room that will be the envy of all who see it.
We will consult with you over every detail of the room including tiling, heating, lighting, design and function. What's more, our expert craftsmen can work directly with your architect, interior designer or building company. We can even design and install a series of bespoke thermal rooms.
What to expect when you go bespoke with Leisurequip
Consultation

From the moment we pick up the phone our friendly experts are working on your project.

Design

Our designers can turn a simple scrawl on scrap of paper into a completed design.

Manufacture

Our team of experts will lovingly craft much of your project before we arrive.
Installation

Tools and components in hand we'll turn up to your premises at an agreed date.

Aftercare

We'll make sure your project continues to provide an inspirational wellness experience.
Talk to a specialist about your project
Our friendly, impartial experts are waiting to take your call or respond to your email.
Talk to a specialist about your project
Our friendly, impartial experts are waiting to take your call or respond to your email.
Frequently asked questions
What is the purpose of a Roman caldarium?
Originally a hot room treatment with plunge bath, modern installations of a Caldarium have heated surfaces (usually a heated floor and tiles). They are driven by electric heating units or low pressure hot water (central heating) pipes within the curved benches, backrests and floor. The radiant heat of a Roman Caldarium treatment room stimulates circulation and regenerates the body's natural energies.
Can I combine a Caldarium with a bespoke spa?
You can indeed combine a Caldarium with a custom spa. In fact almost all of the Roman hot rooms we install are part of a larger spa complex such as a commercial Turkish Hammam or domestic basement spa.
Which thermal rooms go well with a Caldarium?
Any custom built Caldarium is usually part of a larger wellness spa. You won't often see this hot room installed individually in any spa setting. Consequently, when you see a Caldarium you'll also see thermal rooms such a Laconium warm room, Tepidarium warm room and Frigidarium cold room.