Bespoke loungers
Relax in the spa, chill by the pool or sunbathe in the garden with our custom made loungers for home or commercial environments
In conjunction with a number of widely respected international designers we can now offer bespoke loungers for an extensive range of domestic and commercial environments. Whilst we still offer a wide range of pre-fabricated tiled, Corian, marble and heated loungers, many of these incredible solutions can now be fully customised.
Choose from a range of styles and materials for your custom made loungers
Our custom-made, heated marble loungers are perfect for relaxing by your home pool or commercial wellness spa.
Enliven your wellness spa or hotel pool with these custom-made heated tiled loungers for home or commercial uses.
Provide your guests with the ultimate in spa or poolside relaxation with these bespoke heated Corian loungers.
We are able to adjust pre-existing designs to suit your space or design a series of custom-made spa loungers from scratch. This means you'll no longer need to compromise on style, aesthetics and functionality. As a result your home, garden, commercial spa or hotel pool can get the bespoke sun loungers that will fit perfectly.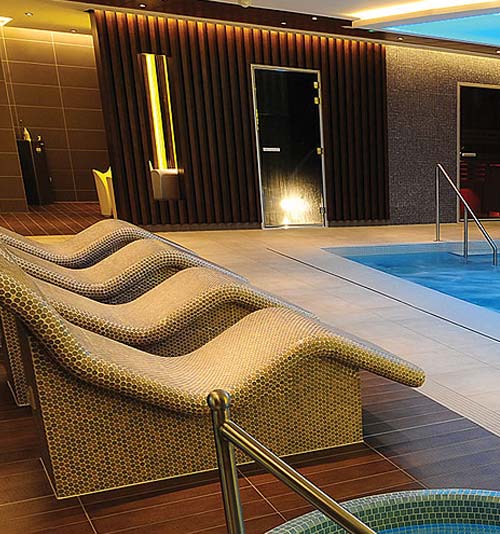 Why choose us to design your bespoke spa loungers?
When you choose Leisurequip, you choose the best. We say this because we have over 40 years of experience in the wellness industry. In that time we've delivered customised solutions across the UK and globally. Our expert knowledge of materials, design and engineering is unmatched.
Leisurequip can work with you, your architect or your interior designer to create the custom made sun loungers that perfectly reflect your needs. Whether bespoke tiled, marble heated or Corian, our team can deliver your loungers to your exact specifications. Check out our projects to see real examples.
What to expect when you go bespoke with Leisurequip
Consultation

From the moment we pick up the phone our friendly experts are working on your project.

Design

Our designers can turn a simple scrawl on scrap of paper into a completed design.

Manufacture

Our team of experts will lovingly craft much of your project before we arrive.
Installation

Tools and components in hand we'll turn up to your premises at an agreed date.

Aftercare

We'll make sure your project continues to provide an inspirational wellness experience.
Talk to a specialist about your wellness project
We have friendly, impartial experts waiting to take your call or respond to your email.
Talk to a specialist about your wellness project
We have friendly, impartial experts waiting to take your call or respond to your email.
Frequently asked questions
Which aspects of your loungers can you customise?
Whilst we offer a range of standard shapes for many of our loungers we can actually design you a spa lounger from scratch. What's more, we can customise many aspects your lounger. Leisurequip can add an infrared heating facility, we can customise the tiling with a range of colours and styles, and we can also add headrests.
This means you can have the ideal loungers for in the outdoor garden at home, in your commercial spa, poolside in your hotel or indoor at your wellness retreat.
Are you able to ship your bespoke loungers abroad?
With some of our loungers we are only able to supply them to UK customers. This is because of supply agreements we have made with manufacturers. However, with our bespoke lounger service we can ship to any country in the world.