Bespoke foot spas
Pamper your commercial clients and relieve their stresses in luxury with our custom tiled foot spas designed and installed by experts
The soothing sensation of our bespoke foot spas inside a luxurious and tranquil relaxation room is hard to beat. Our luxury foot baths offer commercial wellness spas a whole host of benefits. They can relieve a plethora of aches and pains, reduce muscle tension, ameliorate inflammation, improve recovery and revitalise tired feet.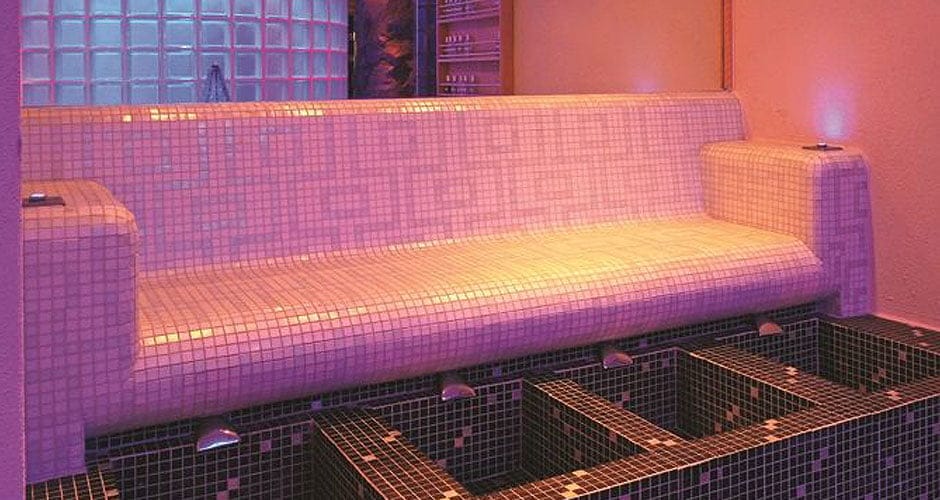 Custom built tiled foot spa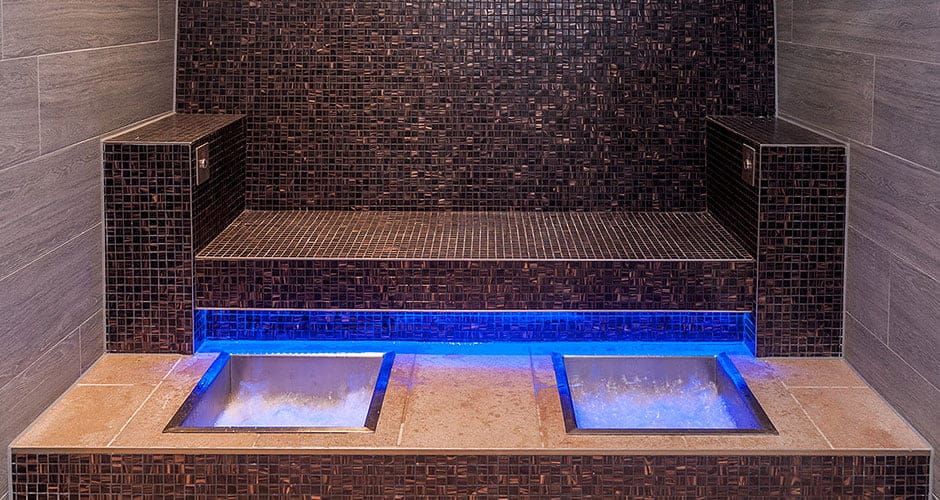 Commercial tiled foot spa design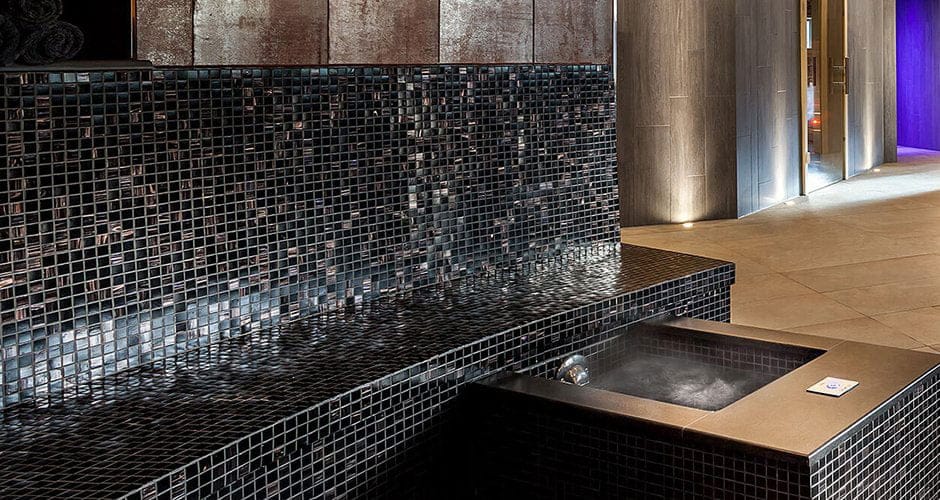 Brimstone Spa tiled foot spa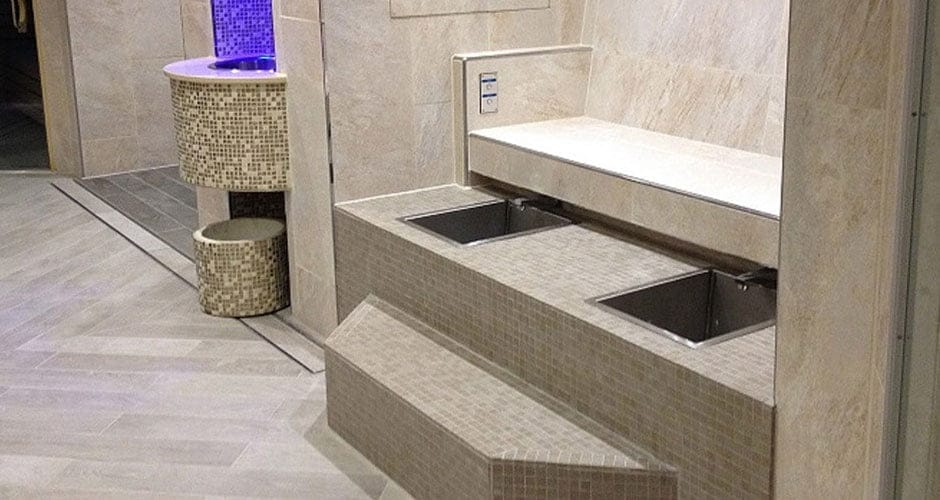 Custom tiled foot spa design
All our bespoke tiled foot spas provide cold and hot options for the feet as part of a total reflexology treatment. Foot-wells are automatically filled with warm bubbling water at the appropriate temperature. Additionally, the seating can be internally heated for enhanced comfort and to relax the user during their session.
3 key features of our mosaic tiled commercial foot spas
1. Heated
Comfort is the number one priority when providing wellness treatments. Our bespoke tiled foot spas can have an internal heating system built into the seating. This ensures your clients are warm and relaxed during their treatment session.
2. Tiled
Choose from an extensive range of tiling styles, colours and finishes. Our custom built foot spas use bisazza tiling to ensure stunning looks, ergonomic designs and durability. They are also easy to clean and require very little maintenance.
3. Automated
Built into your commercial foot spa will be a range of automated equipment. The foot wells come complete with an automated timed empty and fill treatment programme. Additionally, they can also be flushed clear at the end of a session.
Why choose us to design your custom tiled foot spa?
Bespoke tiled wellness rooms are where our team excel. Our tiled commercial foot spas can be designed from concept through to finished installation in any setting. We can design a stand-alone foot spa or a complete room with the interior of the treatment room being completely tiled.
Our team of expert craftsmen have decades of experience designing and installing a myriad of wellness solutions for home and commercial clients. In our 40 year history we have amassed an enviable client list both in the UK and around the global. View our projects for examples of our work.
What to expect when you go bespoke with Leisurequip
Consultation

From the moment we pick up the phone our friendly experts are working on your project.

Design

Our designers can turn a simple scrawl on scrap of paper into a completed design.

Manufacture

Our team of experts will lovingly craft much of your project before we arrive.
Installation

Tools and components in hand we'll turn up to your premises at an agreed date.

Aftercare

We'll make sure your project continues to provide an inspirational wellness experience.
Talk to a specialist about your project
Our friendly, impartial experts are waiting to take your call or respond to your email.
Talk to a specialist about your project
Our friendly, impartial experts are waiting to take your call or respond to your email.
Frequently asked questions
What are the health benefits of a foot spa?
There are varying types of foot spa and very treatments accordingly. The foot spas we build do not provide direct massage but a soft massage via warm bubbling water. In a commercial spa environment they can also be coupled with direct massage from a professional therapist.
Typical benefits include lower blood pressure, improved recovery from foot injuries and conditions like bunions and corns, improved circulation, stress relief, inflammation reduction and more.
Are your custom foot spas suitable for home installation?
Generally we do not install our bespoke foot spas into people's homes. The whole design is geared towards commercial use with multiple people. That said we probably could pare down the size of the design to make it suitable for home installation. It could also be paired with others bespoke wellness solution such as steam room or plunge pool.