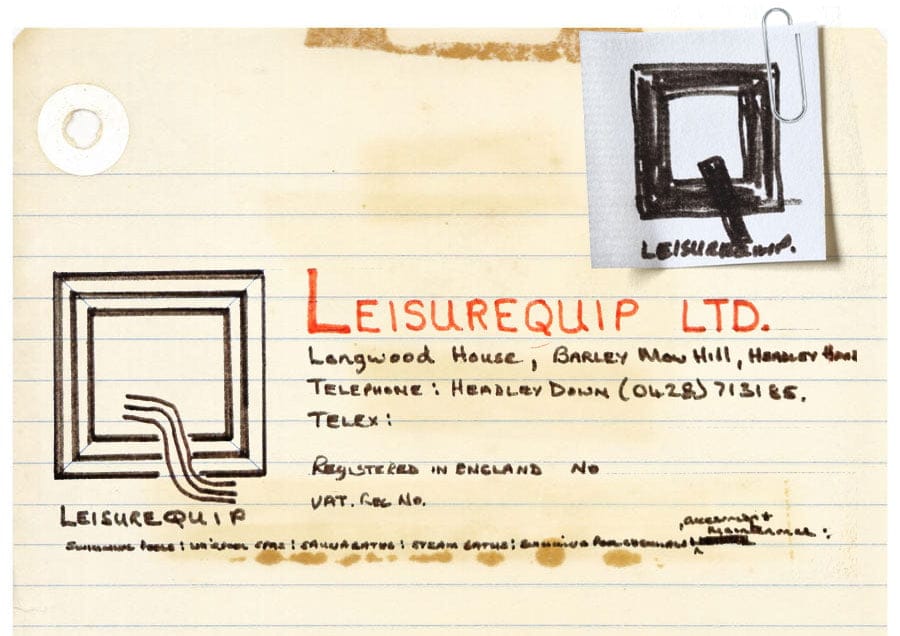 Company history
We've changed a lot over the years and have a rich history in the wellness industry covering four decades and thousands of projects
1982-92
Prior to Leisurequip – Eddie Mann (our founder) ran Swimming Pool Construction Ltd. which was a large commercial pool construction company. The company installed pools around the country with examples being the Isle of Skye Municipal Pool, Eton College, Lady Eleanor Holles School and the Shell Oil Lensbury Club.
Started in 1982 – Eddie had always wanted to run his own company, so in 1982 he formed Leisurequip. Early on Leisurequip started as a small local pool company maintaining and building small pools in our local vicinity with his wife as company secretary and son Kenton Mann as a sitting registered director.
Eddie meets Sven in 1983 – In the early 80's Eddie visited the Leisure Industry Week and Ideal Homes exhibitions as he liked to keep abreast of the latest products and innovations. This is when first contact in the UK was made with Sven-Olof Janson the Founder of Tylö AB Sweden who was looking for companies to import his sauna and steam products to the UK.
Eddie invites Sven over – Eddie invited Sven over from Sweden where they both discussed business in the garden. A deal was struck to import Tylö products from Sweden. With no emails, computers, mobiles or tablets in those days it was a difficult process of bills of lading, international bank drafts and a telex service bureau in the nearest connected town Farnham.
Eddie dies suddenly in 1985 – Sadly in 1985 after establishing the Tylö importer status Eddie suffered a heart attack and died a few days later. His eldest son Kenton chose to leave his contracts manager's career with a Military Term contract construction company and took over the reins at Leisurequip.
At 21 Kenton Mann takes over the reins – as the sitting director Kenton had little alternative but to take up directorship full time. This was against solicitors advice due to his age. 1985 was a steep learning curve. As a qualified construction manager Kenton had a couple of years of on-site experience and he quickly learnt all that was needed to run the company successfully.
Over the next few years – Kenton begins offering clients Tylo pre-fabricated saunas with optional custom installation and also offers pool maintenance services.
Telex communication – we would use a Telex machine to contact Tylo in Sweden to arrange imports to the UK for customer orders.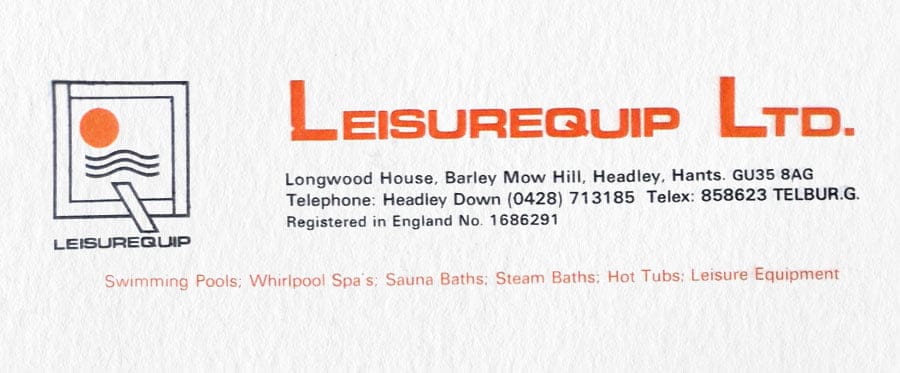 1992-2002
Tylo evolves their product range – and starts offering steam rooms. Leisurequip starts offering the complete Tylo product range. Leisurequip obtain Tylo importer status and become the only trademarked dealer and installer in the UK. A title we still hold to this day.
Tylo expand across the UK – Leisurequip become the Tylo rep for London and the South West. We are increasingly installing high quality sauna and steam rooms to prestigious clients across the UK.
Leisurequip continue with pools – Pool maintenance and servicing still remains around 60% of daily business. Tylo product sales, imports and installations being around 40%.
Commercial expansion – We started building a client base among commercial enterprises such as clubs, gyms, hotels and leisure centres both in the UK and Europe.
Leisurequip start to become known – Word gets around and we started building a reputation for high quality work. Many clients such as Sunseeker International would only deal with us.
We start going bespoke – Leisurequip start offering bespoke wellness rooms to domestic and commercial clients. This included saunas, steam rooms and wellness rooms. This was a market led trend. Around this time we begin building a significant partner base which allowed us to expand the range of wellness rooms we could offer our clients.
We would pick up work – advertising in the Yellow pages for specific areas around the UK and would pick up significant domestic and commercial business. The bespoke side of the business was increasingly become more significant that Tylo imports and pool maintenance.
2002-12
Leisurequip continue to develop – the bespoke side of the business expands and we continue to gain traction as an industry leader. Many new domestic and commercial clients are now asking for us by name.
Prominent commercial clients – some of the clients we take on board around this time include; Best Western Hotels, Lensbury Club, Durden Court, Met Police, Imber Court and many more.
Prominent domestic clients – we also take on many prominent domestic clients such as Norma Bastos and wealthy Russians.
Expand bespoke services – Due to client demand and industry movement we expand our range of bespoke wellness rooms to include Hammam spas, steam showers, mud and salt rooms and much more besides.
2012-22
Harrods appointed contractor – We get brought in to help complete the luxury Hammam spa in Harrods of London.
Expanded product lines – new brands included; Affinity, NeoQi, VelusJet, Fabio Alemanno to name a few. We now offer an extensive range of luxury sauna, steam and spa equipment.
Continued to grow – both the domestic and commercial client base continues to grow with new clients added every week.
We strike an additional import deal – Leisurequip partner with Drom to expand our import options for Tylo (Sweden) and Helo (Finland) products from Scandinavia. This has helped us to cut our costs on many products and to reduce prices for our customers.
Complete brand overhaul – the Leisurequip brand, logo, website and overall identity is completely re-done. For many products we move from price on application to providing e-commerce functionality for hundreds of wellness products. Our bespoke section is completely re-done we additional services added plus we introduce a new projects section.
Harvia approved dealer & installer – Leisurequip meet with a representative of prestigious wellness brand Harvia and agree to offer their complete range of saunas, steam rooms and spa products to our UK customers.