Bespoke dry saunas
Experience extra high heat and much lower humidity with a stylish, hand crafted and custom built dry sauna from Leisurequip
Unlike your typical traditional wet sauna, a bespoke dry sauna operates at very high temperatures and doesn't use the steam created by pouring water on hot stones for added humidity. As a result the humidity comes in around 20%, whilst the overall temperature can reach upwards of 70˚C. This has given it the not undeserved nickname of the sweat box.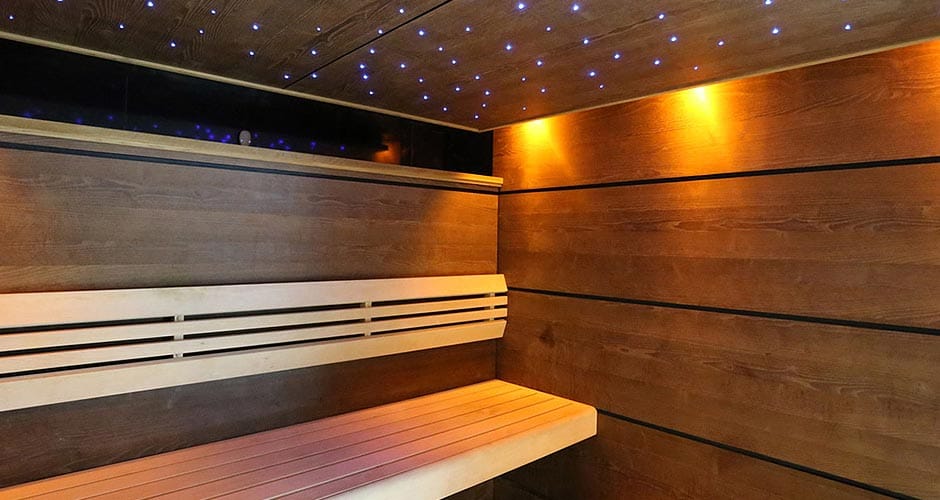 edge hill bespoke dry sauna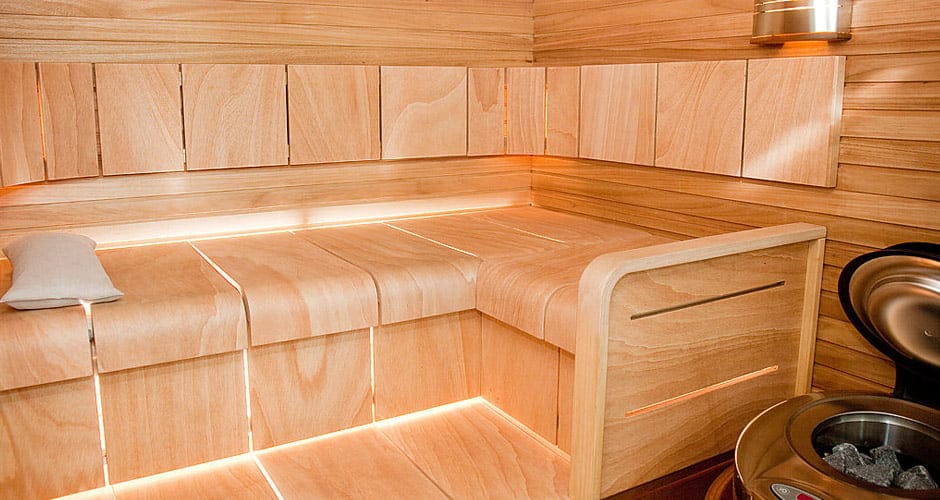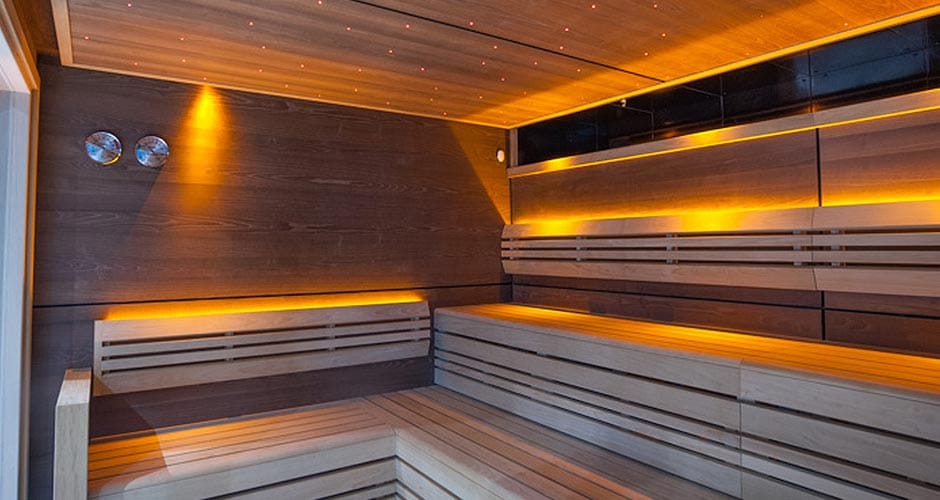 riverton commercial dry sauna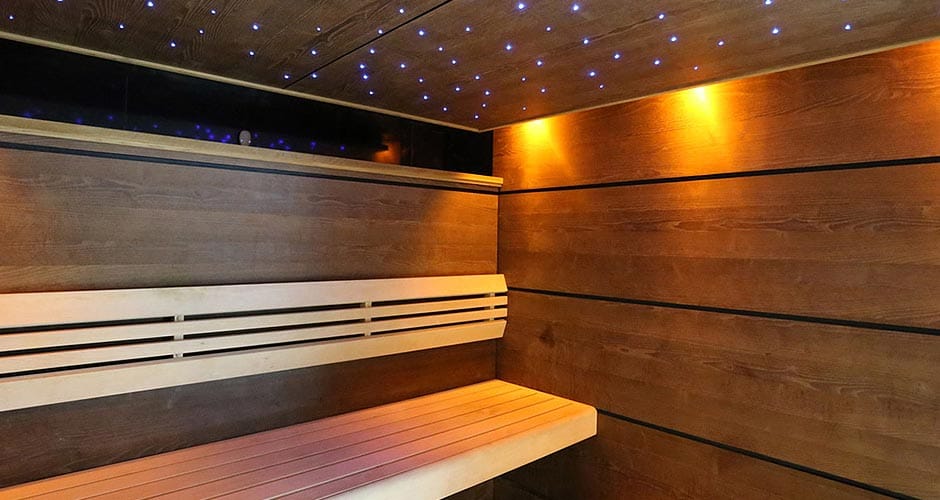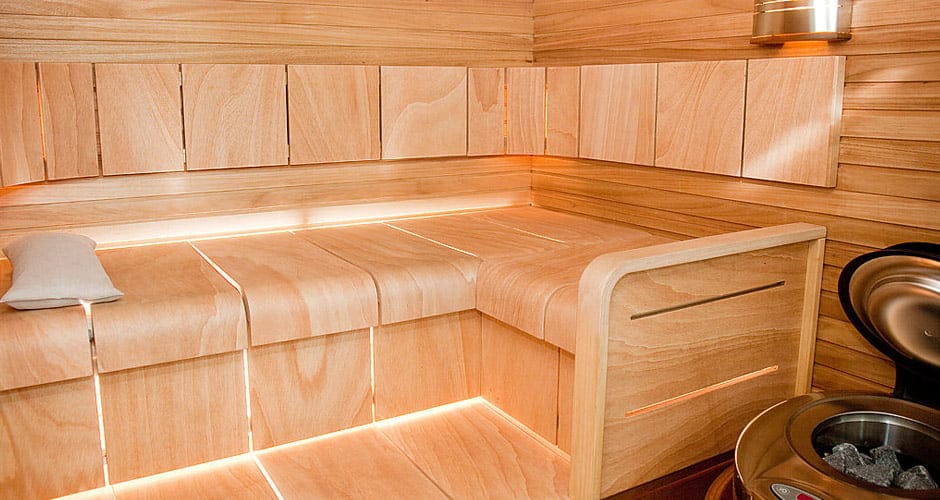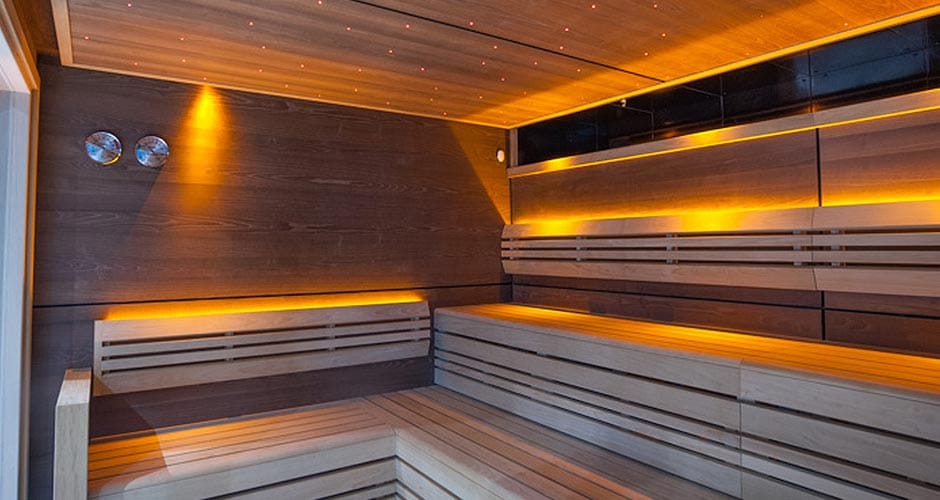 Leisurequip are experts in the design and build of bespoke dry saunas for both domestic and commercial environments. Whether you need a custom installation in a home basement spa or a 20 person room for your commercial spa, we have the knowledge, expertise and experience to deliver your wellness project exactly the way you imagined.
Why choose us to install your bespoke dry sauna?
We have decades of experience designing and building custom saunas of every size and type. In our 40 years of operation we have created custom dry saunas, infrared, traditional and luxury saunas for hundreds of homes and businesses. Take a look at our projects section to see examples.
Our friendly experts can work in partnership with your architect or take your basic idea and turn it into a fully complete custom dry sauna. We can consult with you on every aspect including the design, wood panelling, interior, frameless glass or you can send us your drawings and we'll do the rest.
What to expect when you go bespoke with Leisurequip
Consultation

From the moment we pick up the phone our friendly experts are working on your project.

Design

Our designers can turn a simple scrawl on scrap of paper into a completed design.

Manufacture

Our team of experts will lovingly craft much of your project before we arrive.
Installation

Tools and components in hand we'll turn up to your premises at an agreed date.

Aftercare

We'll make sure your project continues to provide an inspirational wellness experience.
Talk to a specialist about your project
Our friendly, impartial experts are waiting to take your call or respond to your email.
Talk to a specialist about your project
Our friendly, impartial experts are waiting to take your call or respond to your email.
Frequently asked questions
Are dry saunas good for your health?
Much the same as a traditional sauna, a dry sauna offers a myriad of health benefits. This covers rheumatic conditions such as fibromyalgia and arthritis. What's more, using a dry sauna regularly can also benefit those with chronic obstructive pulmonary disease (COPD), chronic fatigue and allergic rhinitis.
Additionally, the usual benefits to skin conditions such as psoriasis that you get in a traditional wet sauna are also found. Notably, if you exercise regularly you may also see performance benefits.
Can you supply your custom dry sauna as a DIY kit?
Almost all our bespoke sauna range can be supplied as a DIY sauna kit. What this entails is us designing and constructing the custom sauna to your specifications and then sending the components as a kit. We will then follow up with support to ensure the final installation goes according to plan.
How long should I stay in a dry sauna room?
Whilst there is no exact length you should stay in a sauna, we would expect you to stay in a hot, dry sauna for no longer than 15 minutes. As you'll appreciate, the longer you are in a hot environment the more at risk you become from dehydration and any other heat related conditions.
Which type of wood is best a dry sauna construction?
There is no particular type of wood best suited to a dry sauna. If your bespoke design uses a certain wood and we do not think it is the best choice we'll let you know and suggest a suitable replacement. Constructing a dry sauna is much the same as a regular bespoke sauna.