Design your own sauna online in 4 easy steps
The perfect DIY sauna is now easy accessible with this handy online App. The TyloHelo 3D sauna designer is the first step to building your own home sauna room. The configurator tool consists of 3 main sections with a summary at the end for you to download a pdf of your specifications.
Step 1: Size of your sauna room design
The size of your sauna will of course be dictated by the space you have available. When you begin the sauna designing process there will be minimum standard sizes applied of 2011mm x 2011mm x 2073mm. This is easily editable, however the smaller you go, the less chance there is for interior furniture such as benches and accessories.
Room size
When you design your own sauna with the App you will first need to measure the space. You'll also need to consider access points for ventilation. Additionally, you'll need to leave breathing space between the walls of your home and your sauna when you build it.
Room model
For room model we've chosen the glass front specification. Other options for your sauna room design include glass corner, square, corner and round corner. Your choice will be down to aesthetic preferences. You can experiment with the design before you progress to the next part.
Corner side
If you choose a glass corner you can also choose which side the corner is to go on. Since we've chosen a glass front this isn't applicable.
Step 2: Exterior design of your sauna room
At this point you will be ready to move on to the exterior design of your sauna. This will cover an extensive array of building components such as wood type, glass tinting, soffit installation, trim and frames.

Wall type
Choosing between horizontal or vertical wood panelling can be a difficult choice for some people. This where you make that decision.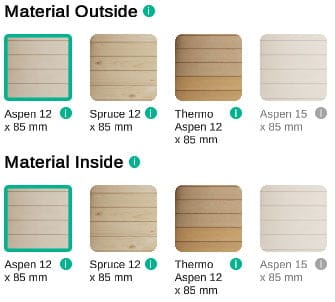 Material outside
Next up is the choice of wood panelling for your sauna. Different woods can offer a remarkable different sauna experience. Hard woods such as usually have a deeper aroma, darker colour and are more expensive. Softer woods such as Alder, Aspen or Spruce are less expensive and lighter in colour. Consequently, TyloHelo offer a compromise in the Thermo treated Aspen.
Material inside
For inside we've chosen the same Aspen panelling purely for aesthetic purposes.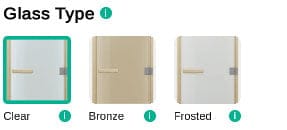 Glass type
If as we've done you choose for a glass front sauna you can also choose which glass you have. This is the same if you just choose to have a simple glass door. Choices are clear, bronze tinted or frosted glass. All glass is tempered safety glass as standard.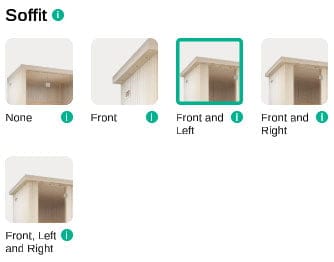 Soffit
Whilst not as widely used as it once was, the soffit can also be used to house downlights. As a result it is still widely used for outdoor saunas.
Material ceiling outside
In the whole it's rare that anyone will be admiring the external ceiling of your newly designed sauna. Consequently you can cut a few corners here and go for a cheaper wood such as Spruce if you've used a hard wood elsewhere.
Material ceiling inside
For inside we will again go with Aspen which we've used everywhere else to maintain the aesthetic.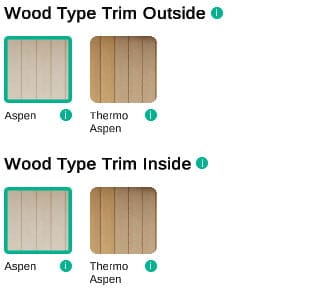 Wood type trim outside
For wood trim your previous choices will usually dictate what you choose here. You can of course experiment with the sauna design before settling on your final choice.
Wood type trim inside
For inside trim we will choose the same as outside.
Floor frame
For the floor frame we've chosen the basic option.